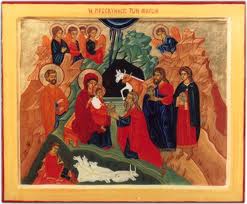 Having sighted the divinely-moving star, the Magi followed its radiance; and holding it as a lamp, by it they sought a powerful King; and having reached the Unreachable One, they rejoiced, shouting to Him: Alleluia!
The sons of the Chaldees saw in the hands of the Virgin Him Who with His hand made man. And knowing Him to be the Master, even though He had taken the form of a servant, they hastened to serve Him with gifts, and to cry to Her Who is blessed:
Rejoice, Mother of the Unsetting Star:
Rejoice, dawn of the mystic day!
Rejoice, Thou Who didst extinguish the furnace of error:
Rejoice, Thou Who didst enlighten the initiates of the Trinity!
Rejoice, unwedded Bride !