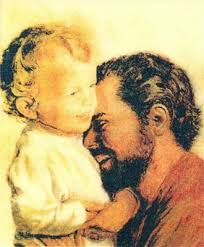 Holy Joseph,
You, the educator of the Child Jesus with Mary,
Carry on your mission as a guide and teacher for us too. You, the carpenter of Nazareth, Teach  us how to  refuse avarice, envy and sloth, To abide by justice and poverty. You, the emigrant to Egypt among tears, Help us to keep away from  pride and wrath  Preferring  mercy and peace In spite of persecutions. You, the Husband of the Virgin Mary, Support us in the fight against lust and gluttony  To know the sweetness and the purity of  heart.
Holy Joseph, be our adviser by the side of the Virgin Mary. Trained by your paternal care , Far from the confinement of  sin, We shall drink to the sources of the divine grace , We shall communicate to Jesus, the Bread of Life and our Savior Thanks be to you, Holy Joseph To be our guide in every day life. Thanks be to you, Holy Joseph To be close to us at the hour of our death. Thanks be to you Holy Joseph With you, we hope to enjoy the eternal bliss.
Amen.