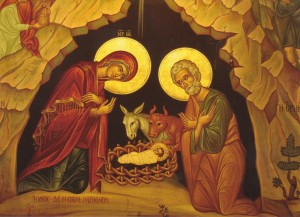 "Christmas celebrations are often full of sound. It would be good for us to make room for silence, to hear the voice of Love."

Pope Francis – tweet 23.12.2013
That's what Christmas night brings us. When we see a God who falls for our smallness, who makes himself mere tenderness to fondle us even better, a God who is all gentleness, all close relationship, we have no other thing to do than to open our hearts and say, Lord if you did so help us, give us the grace of tenderness in the painful situations of life, give me the grace of close neighbourness to every human being in need, give me the grace of meekness whatever conflict I might be confronted to.
Cardinal Bergoglio – Buenos Aires, December 24, 2004.
HAPPY and HOLY CHRISTMAS to everyone !
from Fathers Raymond & Pierre Jaccard.