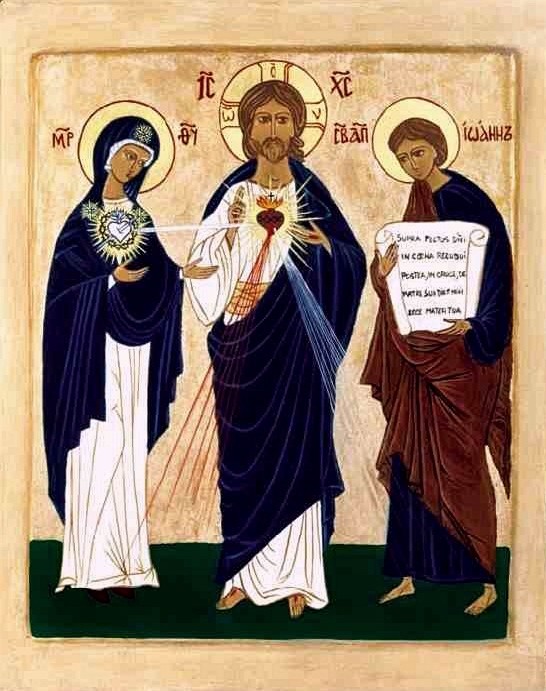 Is the Sacred – Heart of Jesus outmoded? (…) Would it be out of fashion  to pray  the Sacred Heart of Jesus to take pity on us nowadays? To beg Him to see his kingdom come, in our hearts, our families, our countries? Isn't it a complete mistake ? If the message given to Saint Margaret Mary Alacoque in the XVIIth century in Paray-le-Monial (France) was  a most "up to date" event and very appropriate  to "set our hearts on a fire of Love" ? Can we imagine that it is precisely what our "modern" society is in need of ?

Shall we have the simplicity, as John, the disciple whom Jesus loved,  to tilt our head toward Jesus'chest and  listen to His heart beat, until we begin to feel  divine compassion? This IS very topical :  the subject of compassion appeals  to  modern ears. (…) What about replacing this worship in the Sacred – Heart in our personal prayers, in our families ? (…)
Very merciful hearts of Jesus and Mary,
We beg you to convert our hearts, empty them of their egoism
And fill them with YOUR love, love for God our Father,
And Love for our brothers and our sisters.
Transform us by the imitation of your virtues, and establish your reign of Truth,
Justice, Love and Holiness in every single heart
May you so reign in our families, in the Church, in today's society and in all the nations.
May – through the imitation of this mysterious union of your two Hearts which, in some way, are but ONE heart -
the communion of spirits and hearts in Peace, Justice and Charity prevail on our earth !