Monthly Archives:
June 2015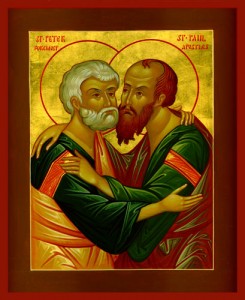 To confess the Lord by letting oneself be taught by God; to be consumed by love for Christ and his Gospel; to be servants of unity.  These, dear brother bishops, are the tasks which the holy apostles Peter and Paul entrust to each of us, so that they can be lived by every Christian. May the holy Mother of God guide us and acompany us always with her intercession.  Queen of Apostles, pray for us!  Amen. (Homily Pope Francis 29.06.2013)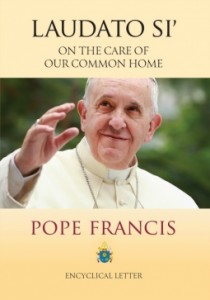 Pope Francis'encyclical  is focused on the idea of 'integral ecology', connecting care of the natural world with justice for the poorest and most vulnerable people. Only by radically reshaping our relationships with God, with our neighbours and with the natural world, he says, can we hope to tackle the threats facing our planet today. Science, he insists, is the best tool by which we can listen to the cry of the earth, while dialogue and education are the two keys that can "help us to escape the spiral of self-destruction which currently engulfs us".
At the heart of the Pope's reflections is the question: "What kind of world do we want to leave to those who come after us, to children who are now growing up?". The answers he suggests call for profound changes to political, economic, cultural and social systems, as well as to our individual lifestyles.
Chapter 1 sets out six of the most serious challenges facing "our common home"
Pollution, waste and our throwaway mentality: "the earth, our home, is beginning to look more and more like an immense pile of filth"
Climate change: "one of the principle challenges facing humanity in our day" but "many of those who possess more resources and economic or political power seem mostly to be concerned with masking the problems or concealing their symptoms"
Water: "access to safe drinkable water is a basic and universal human right" yet entire populations, and especially children get sick and die because of contaminated water
Biodiversity: "Each year sees the disappearance of thousands of plant and animal species" and the consequences cannot be predicted as "all of us, as living creatures, are dependent on one another". Often transnational economic interests obstruct this protection
Breakdown of society: Current models of development adversely affect the quality of life of most of humanity and "many cities are huge, inefficient structures, excessively wasteful of energy and water
Global inequality: Environmental problems affect the most vulnerable people, the greater part of the world's population and the solution is not reducing the birth rate but counteracting "an extreme and selective consumerism" Continue reading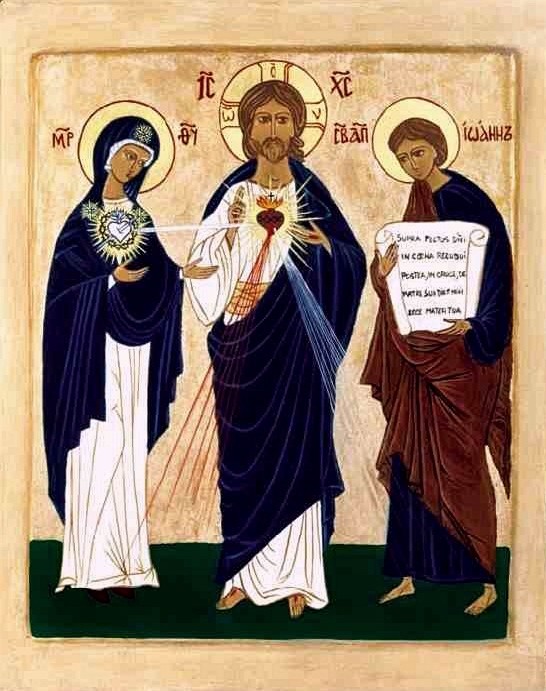 Is the Sacred – Heart of Jesus outmoded? (…) Would it be out of fashion  to pray  the Sacred Heart of Jesus to take pity on us nowadays? To beg Him to see his kingdom come, in our hearts, our families, our countries? Isn't it a complete mistake ? If the message given to Saint Margaret Mary Alacoque in the XVIIth century in Paray-le-Monial (France) was  a most "up to date" event and very appropriate  to "set our hearts on a fire of Love" ? Can we imagine that it is precisely what our "modern" society is in need of ?

Shall we have the simplicity, as John, the disciple whom Jesus loved,  to tilt our head toward Jesus'chest and  listen to His heart beat, until we begin to feel  divine compassion? This IS very topical :  the subject of compassion appeals  to  modern ears. (…) What about replacing this worship in the Sacred – Heart in our personal prayers, in our families ? (…)
Very merciful hearts of Jesus and Mary,
We beg you to convert our hearts, empty them of their egoism
And fill them with YOUR love, love for God our Father,
And Love for our brothers and our sisters.
Transform us by the imitation of your virtues, and establish your reign of Truth,
Justice, Love and Holiness in every single heart
May you so reign in our families, in the Church, in today's society and in all the nations.
May – through the imitation of this mysterious union of your two Hearts which, in some way, are but ONE heart -
the communion of spirits and hearts in Peace, Justice and Charity prevail on our earth !
Hence so great a Sacrament Let us venerate with heads bowed And let the old practice give way to the new rite; Let faith provide  for the failure of the senses. To the Begetter and the Begotten Be praise and jubilation, Hail, honour, virtue also, And blessing too: To the One proceeding from Both Let there be equal praise. Amen.
The Eucharist is "the source and summit of the Christian life." (…) " 
For in the blessed Eucharist is contained the whole spiritual good of the Church, namely Christ himself, our Pasch."
The Solemnity of the Most Holy Body and Blood of Christ is also known as the Solemnity of Corpus Christi, which translates from Latin to "Body of Christ." This feast originated in France in the midthirteenth century and was extended to the whole Church by Pope Urban IV in 1264. This feast is celebrated on the Thursday following the Trinity Sunday  or on the Sunday following that feast.
It is a Mystery. But our Faith tells us that the Eucharist is:
THE SACRED BANQUET which Jesus took with his friends on Maundy Thursday : he gave them his Body to eat and his Blood to drink  .
THE FANTASCTIC ACT  of LOVE of Good Friday: Jesus dies on a Cross by Love for us ! "The greatest way to show love for friends is to die for them." (John 15:13)
THE CERTAINTY that Jesus DID resuscitate at Easter.
As we are the Body of Christ (the members of the Church) of which He is the head, we can say that  - in some way -  we are already in the Light and resuscitated with Him.
An  ESSENTIAL REQUIREMENT :  to lead our lives as Jesus did, and with Him amidst " the poverty of our world ".
It is in the Eucharistic worship that this Mystery comes to light
Let us pray: ô God, You have provided us bread from heaven. O God,  who to us in this wonderful Sacrament, bequeathed a memorial of Your Passion: grant, we beseech, that  in addition to simple worship, we may also mean worshipping in order to receive favours from  the Holy Mysteries of Your Body and Blood. May within ourselves continually sensibly perceive the fruit of Your redemption. You who live and reign into ages of ages.