Monthly Archives:
May 2015
"Wonderful Lord, on the Feast of Mary' Visitation, we are reminded that you are a GOD of JOY and that you always fulfill your promises. Give me a spirit that rejoices in YOU for all the great things that your've done for me because you love me. Thank you for all you have done and will do ! Blessed Mary, pray for me !"
Gabriel had just left her (Mary), and the first thing she does is prepare to leave and visit Elizabeth, her cousin. Gabriel had told her Elizabeth was in her sixth month of pregnancy, a testament to the power of God.
To our modern way of thinking, Mary surely deserved to stay home to rest and take care of herself, now that she herself was expecting. And after all, the angel had said this child would be the holy Son of God!  That certainly deserves some pampering and special treatment!
But I suspect Mary was overjoyed at the news of Elizabeth's pregnancy, and couldn't wait to get there and share the wonder of it all with her. Now the two of them could delight in each other's miracles and bask in the glory of God and all He had done by His power alone. I can easily imagine them hugging and laughing and fussing over each other.
It's really a simple lesson this mystery teaches – take care of each other. Even when you have good reason for worrying only about yourself, try to find a way to care for someone else also. I'm your neighbor and you're mine. There will be plenty of opportunities for us to care for each other and meet the other's needs. But will we?

The mystery of the Most Holy Trinity is the central mystery of Christian faith and life. It is the mystery of God in himself. It is therefore the source of all the other mysteries of faith, the light that enlightens them. It is the most fundamental and essential teaching in the "hierarchy of the truths of faith".56 The whole history of salvation is identical with the history of the way and the means by which the one true God, Father, Son and Holy Spirit, reveals himself to men "and reconciles and unites with himself those who turn away from sin".(catechism of the Catholic Church §234)
June 15th, 2014. On the first Sunday after the Pentecost, the Christians celebrate

God Love

.

A single God in three persons.
God is three Persons: the Father, the Son, and the Holy Spirit. But He isn't three gods. When we say God is three Persons, we don't mean that He is three people or men. By "person," we mean that the Father, Son, and Spirit are real beings. Each is fully God. Each Person of God does different things, but all together they are one God. God is three in one, called the Trinity. The Trinity describes the three different Persons of our one God.
Prayer to the Holy Trinity by Elizabeth of Dijon (Elizabeth of the Trinity)
O my God, Trinity whom I adore, let me entirely forget myself that I may abide in you, still and peaceful as if my soul were already in eternity; let nothing disturb my peace nor separate me from you, O my unchanging God, but that each moment may take me further into the depths of your mystery ! Pacify my soul! Make it your heaven, your beloved home and place of your repose; let me never leave you there alone, but may I be ever attentive, ever alert in my faith, ever adoring and all given up to your creative action.  
O my beloved Christ, crucified for love, would that I might be for you a spouse of your heart! I would anoint you with glory, I would love you – even unto death! Yet I sense my frailty and ask you to adorn me with yourself; identify my soul with all the movements of your soul, submerge me, overwhelm. me, substitute yourself in me that my life may become but a reflection of your life. Come into me as Adorer, Redeemer and Saviour.   Continue reading →
"Today's liturgy is a great prayer which the Church, in union with Jesus, raises up to the Father, asking him to renew the outpouring of the Holy Spirit. May each of us, and every group and movement, in the harmony of the Church, cry out to the Father and implore this gift. Today too, as at her origins, the Church, in union with Mary, cries out: "Veni, Sancte Spiritus! Come Holy Spirit, fill the hearts of your faithful, and kindle in them the fire of your love!" Amen." Pope Francis' homily Pentecost 2013

click here for the prayer : Come Holy Spirit, Creator Blest (Veni, Creator Spiritus)
Saint Thérèse of the Child Jesus tells how she received the Holy Spirit on the day of her Confirmation, day when the Pentecost is renewed for the Christian who receives this sacrament.
How happy I felt! Like the Apostles, I looked with joy for the promised Comforter, gladdened by the thought that I should soon be a perfect Christian, and have the holy Cross, the symbol of this wondrous Sacrament, traced upon my forehead for eternity. I did not feel the mighty wind of the first Pentecost, but rather the gentle breeze which the prophet Elias heard on Mount Horeb. On that day I received the gift of fortitude in suffering ….
Father of light, from whom every good gift comes, send your Spirit into our lives with the power of a mighty wind, and by the flame of your wisdom open the horizons of our minds. Loosen our tongues to sing your praise in words beyond the power of speech, for without your spirit man could never raise his voice in words of peace or announce the truth that Jesus is Lord, who lives and reigns with you and the Holy Spirit, one God, forever and ever. (Opening Prayer of the Mass of Pentecost)
At the conclusion of meetings or of conferences, some questions are or were frequently put to Brothers Pierre and Raymond:
" How do you manage to stay in this world of  disabled and deeply handicaped Lepers who live  in an extreme poverty? How do you manage to live in refugee camps, with those deeply desperate people ? How can you bear listening to moms who tell you: " my children are hungry and I have nothing to give to them to eat? "
The Brothers' answer can be so summarized:
+ " Without our Christian Faith we could not continue in this world of  persons who are so handicapped, weakened  or/and on the breadline. Without  daily Adoration of Jesus in the Blessed Sacrament , Him who is nothing but Love and who loved us to the point of death  even to death on the Cross, we could not carry on our missions. It is the Holy Spirit who helps us to let Him pray through us.
In the Creed we say that Jesus "ascended into heaven and is seated at the right hand of the Father". Jesus' earthly life culminated with the Ascension, when he passed from this world to the Father and was raised to sit on his right. What does this event mean? How does it affect our life? What does contemplating Jesus seated at the right hand of the Father mean?

(Pope Francis, general audience April 17th 2013) CLICK HERE
Prayer
God our Father, make us joyful in the Ascension of your Son Jesus Christ. May we follow him into the new creation for his Ascension is our glory and our hope. We ask this through our Lord Jesus Christ, your Son, who lives and reigns with you and the Holy Spirit, one God, for ever and ever.(Prepared by the Spiritual Theology Department of the Pontifical University of the Holy Cross )
Scripture texts to be meditated upon:
"I will not let you be without a friend" (John 14, 18 ). "I am ever with you, even to the end of the world". (Matthew 28, 20). Jesus was taken up to heavens. And while they (the Apostles) were looking up to heaven with great attention, two men came to them, in white clothing, and said, O men of Galilee, why are you looking up into heaven? After the Ascension Day "they all with one mind gave themselves up to prayer, with the women, and Mary the mother of Jesus " (Acts1,14)
With our Pope Francis, the Ascension Day exhorts us to pray and to go out to the peripheries to proclaim the Good News of the Gospel.  
          " Praying is speaking to God with love" (Father Charles de Foucauld). We are invited to pray, as the apostles with Mary.
" Going out to the peripheries ", it is not to be afraid of paying attention to anybody we may meet especially those who are nameless, without influence, and often disdained.
The Hope of every Christian, being a missionary by definition, is that Jesus repeats him non stop " Go ahead, I am  with you for ever  !". It is this certainty which guided us throughout our missions.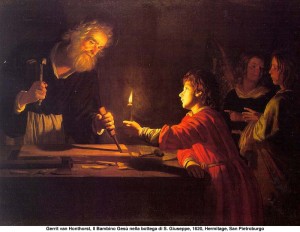 May St Joseph, such a great and humble saint be an example that inspires Christian workers, who should call on him in every circumstance. Today I wish to entrust to the provident guardian of the Holy Family of Nazareth the young people who are training for their future profession, the unemployed, and those who are suffering from the hardship of the shortage of employment, families and the whole world of work, with the expectations and challenges, the problems and prospects that characterize it. (General audience JP II 19.03.2003, § 4)
Prayer of St Francis de Sales to St. Joseph
Glorious St Joseph, spouse of Mary, grant us thy paternal protection, we beseech thee by the heart of Jesus Christ. O thou, whose power extends to all our necessities and can render possible for us the most impossible things, open thy fatherly eyes to the needs of thy children.
In the trouble and distress which afflicts us, we confidently have recourse to thee. Deign to take under your charitable charge this important and difficult matter, cause of our worries. Make its happy outcome be for God's glory and for the good of His devoted servants. Amen.