The Holy Spirit is PEACE as a PERSON.-

This peace is received at Baptism and Confirmation, but above all – says Pope Francis – "we receive it like a child who receives a gift" " without conditions , with an open heart". We must custody the Holy Spirit without "imprisoning Him", asking for help from this "great gift " of God : "If you have this peace of the Spirit, if you have the Holy Spirit within you, and you are aware of this, let not your heart be troubled. Be sure! (…) The presence of the Spirit that makes our heart be at peace. Not anesthetized, no! At peace! Aware, but at peace with the peace that only God's presence gives".
Pope Francis' prayer for Peace in the Middle East.-
Lord God of peace, hear our prayer!
 We have tried so many times and over so many years to resolve our conflicts by our own powers and by the force of our arms.  How many moments of hostility and darkness have we experienced; how much blood has been shed; how many lives have been shattered; how many hopes have been buried…  But our efforts have been in vain.
Now, Lord, come to our aid!  Grant us peace, teach us peace; guide our steps in the way of peace.  Open our eyes and our hearts, and give us the courage to say: "Never again war!"; "With war everything is lost".  Instil in our hearts the courage to take concrete steps to achieve peace.
Lord, God of Abraham, God of the Prophets, God of Love, you created us and you call us to live as brothers and sisters.  Give us the strength daily to be instruments of peace; enable us to see everyone who crosses our path as our brother or sister.  Make us sensitive to the plea of our citizens who entreat us to turn our weapons of war into implements of peace, our trepidation into confident trust, and our quarreling into forgiveness.
Keep alive within us the flame of hope, so that with patience and perseverance we may opt for dialogue and reconciliation.  In this way may peace triumph at last, and may the words "division", "hatred" and "war" be banished from the heart of every man and woman.  Lord, defuse the violence of our tongues and our hands.  Renew our hearts and minds, so that the word which always brings us together will be "brother", and our way of life will always be that of: Shalom, Peace, Salaam!  Amen.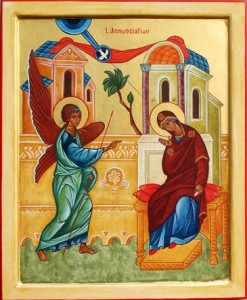 The Immaculate Virgin intercedes for us in heaven as a good mother who watches over her children. May Mary teach us by her life what it means to be a missionary disciple. Every time we pray the Angelus, we recall the event that changed the history of mankind for ever. When the Angel Gabriel proclaimed to Mary that she would become the Mother of Jesus the Saviour, even without understanding the full significance of that call, she trusted God and replied: "Behold, I am the handmaid of the Lord; let it be to me according to your word" (Lk 1:38). But what did she do immediately afterwards? On receiving the grace of being the Mother of the Incarnate Word, she did not keep that gift to herself; with a sense of responsibility, she set off from her home and went in haste to help her kinswoman Elizabeth, who was in need of assistance (cf. Lk 1:38-39); she carried out an act of love, of charity, and of practical service, bringing Jesus who was in her womb. And she did all this in haste!
There, my dear friends, we have our model. She who received the most precious gift from God, as her immediate response sets off to be of service and to bring Jesus. Let us ask Our Lady to help us too to give Christ's joy to our families, our companions, our friends, to everyone. Never be afraid to be generous with Christ. It is worth it! Go out and set off with courage and generosity, so that every man and every woman may meet the Lord.(Pope Francis 28.07.2013- Copacabana)
The angelus recited three times a day reminds us the reality and the always current efficiency of the mystery of the Incarnation and the Redemption which restores every thing and the "Ave Maria" extends up to the end of times the liberating echo of the Angel's message.

The Angelus Prayer HERE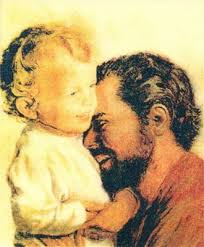 Holy Joseph,
You, the educator of the Child Jesus with Mary,
Carry on your mission as a guide and teacher for us too. You, the carpenter of Nazareth, Teach  us how to  refuse avarice, envy and sloth, To abide by justice and poverty. You, the emigrant to Egypt among tears, Help us to keep away from  pride and wrath  Preferring  mercy and peace In spite of persecutions. You, the Husband of the Virgin Mary, Support us in the fight against lust and gluttony  To know the sweetness and the purity of  heart.
Holy Joseph, be our adviser by the side of the Virgin Mary. Trained by your paternal care , Far from the confinement of  sin, We shall drink to the sources of the divine grace , We shall communicate to Jesus, the Bread of Life and our Savior Thanks be to you, Holy Joseph To be our guide in every day life. Thanks be to you, Holy Joseph To be close to us at the hour of our death. Thanks be to you Holy Joseph With you, we hope to enjoy the eternal bliss.
Amen.